Want the secret to a lush, green lawn that you can be proud of? It's simple: Fertilization!  Fertilizer is "lawn food" that nourishes, strengthens, and enriches the soil, making it an integral part of any lawn care routine. 
At first glance, fertilizing your lawn may seem like a daunting task. You have to consider many factors, including but not limited to: your grass type, soil temperature, watering schedule, and time of year. You should also know that not every fertilizer is the same and each one serves a different purpose for feeding your lawn. Every fertilizer bag has an N, P, K ratio on it, which stands for Nitrogen, Phosphorus, and Potassium. This ratio tells you the amount of each of these elements included in the fertilizer. (Example: A bag with the ratio 20-0-3 means that it contains 20% Nitrogen, 0% Phosphorous, and 3% Potassium). 
When applied correctly and on schedule, it will prevent the risk of damaging your lawn and give it a necessary boost of the key nutrients needed for proper growth. The result? A healthier lawn with stronger roots that ultimately produces a vibrant, green color all year long. At Jonathan Green, we believe in giving your lawn quality ingredients to help it grow and flourish throughout every season. We've created simple Annual Lawn Care Programs for you that takes the guesswork out of proper lawn care.
If you have an established, cool-season lawn and want to give it the best care plan possible, read on for more information! 
Here is your essential seasonal schedule and application reference tool for applying fertilizer throughout the growing season: 
While this is a general outline for feeding your lawn throughout every season, below is a detailed fertilizer schedule with specific reasons why feeding at the right time of year is integral to the health of your lawn:  
Fertilizer Schedule 
Early Spring

  
Spring is a perfect time to fertilize, as your lawn will need a pick-me-up from the cold winter months! During that period of dormancy, your grass and roots were deprived of key nutrients needed for healthy growth and color. A spring feeding will give your lawn a "wake-up-call", by reviving the grass and strengthening roots to help it withstand potential stress from rising temperatures.
You should split your spring applications of fertilizer into two parts: once in early spring and again in late spring. Before you begin applying, note that you need to wait until soil temperatures have reached 45ºF, as this is a key indicator that cool-season grass has emerged from dormancy. 
Put down an early spring application of Jonathan Green Crabgrass Preventer sometime between early March and April. This feeding will help in controlling existing weeds and preventing crabgrass and other grassy weeds from coming up during the growing season. If you apply this fertilizer, be aware that you can't seed your lawn until fall. 

Early Spring Fertilizer
Jonathan Green Veri-Green Crabgrass Preventer Plus Lawn Fertilizer
Pre-emergent and post-emergent crabgrass control 

Feeds your lawn for three full months 

Apply in early spring to prevent germination of crabgrass and other grassy weeds 
Late Spring 
Once you've applied your first application in early March or late April, wait 6-8 weeks before giving your lawn a second feeding to avoid over-fertilizing and burning your lawn. This second feeding will ensure your lawn is adequately prepared to withstand the hot, summer months.  
During the later months of spring (May to June), it will be beneficial to give your lawn a second feeding in order to ensure your lawn has enough nutrients to maintain its green color throughout the summer. Spring is also the time of year that most people have problems with broadleaf weeds, such as dandelions, taking over their lawn. Using Jonathan Green Veri-Green Weed & Feed Lawn Fertilizer will help to combat any existing weed issues, including broadleaf weeds, and promote a stronger root system to keep them under control. Apply only to a wet lawn using a spreader and when no rain is expected for 48 hours.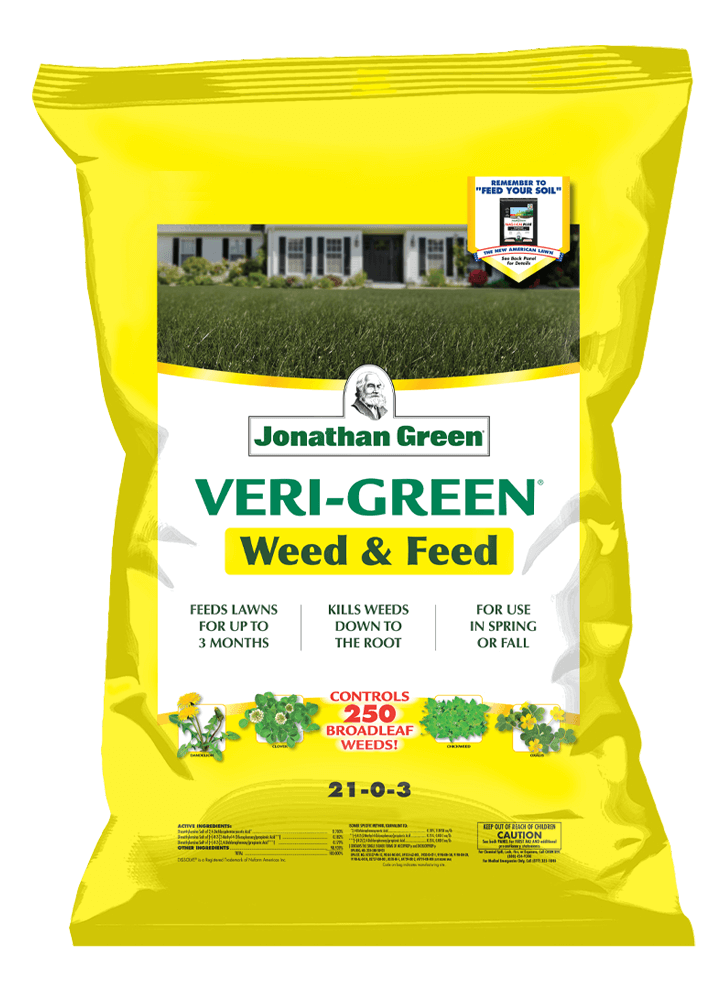 Late Spring Fertilizer
Jonathan Green Veri-Green Weed & Feed Lawn Fertilizer 
Controls over 250 types of broadleaf weeds while gently feeding your lawn 

Kills existing weeds down to the root to prevent them from emerging again 

Feeds lawn for up to three months



Summer 
Summertime lawn care is all about maintaining the hard work you've done during the spring months and ensuring your grass can handle the heat. By following this feeding schedule, you won't need an extra application of fertilizer in the summer, especially if you have cool-season grass. Focus instead on improving the health and quality of your soil during this season, as a balanced soil pH supports your lawn's ability to absorb nutrients from fertilizer. 
Use a spreader to apply soil food on a dry lawn after mowing to ensure it is absorbed into every part of your lawn. The warm, summer weather is also perfect for applying soil food, as the microbes in the soil are most active during this time. 
Summer Fertilizer
Jonathan Green Mag-I-Cal® Plus for Lawns in Acidic & Hard Soil
Natural soil food helps to balance soil pH 
Also helps with compacted soil 
Improves root system and promotes growth 
Autumn  
Fall is an ideal time to fertilize cool-season grasses. As the heat from summer may have caused significant stress to your lawn, you will need to repair any damage and prepare for the upcoming winter period of dormancy. Fertilizing during this time of year is important because it provides your lawn with a good dose of nutrition to promote healthy growth. Be sure to use a fertilizer that is high in potassium, as this key ingredient will aid in creating a stronger root system that will help your lawn absorb key nutrients and water for a greener lawn. 
To prep your lawn for the cold and dreary winter months put down a liberal application in early August to late September. This will give your lawn a good feeding to help your soil withstand the cold winter months when the grass goes dormant. 
Fall Fertilizer
Jonathan Green Winter Survival Fall Lawn Fertilizer
Nutrient-rich fall fertilizer that is high in potassium for building a stronger root system 

Nitrogen helps to repair any summer damage 

Good for newly seeded and established lawns 
Factors That Affect Fertilization:
Grass Type
Before you start the process of feeding your lawn, it's important to know what type of grass you have. While the above schedule is specifically for cool-season grasses, it's beneficial to know that the type of grass you have will help determine the appropriate time to fertilize your lawn. 
Cool-season grasses, such as tall fescue, Kentucky bluegrass, and perennial ryegrass, should be fertilized two to three times during the growing seasons (twice in the spring and once in the fall) preferably early in the morning or before air temperatures rise above 60 to 70ºF.
Warm-season grasses, such as Bermuda, St. Augustine, and Zoysia, should be fertilized during early spring to early summer, just before the temperatures rise above 80ºF and peak growing season starts (late May to early July).
Soil Temperature
Another factor to be mindful of when feeding your lawn is the temperature of your soil. When applying fertilizer, the soil temperature should be at least 45ºF and air temperatures should be no higher than 85ºF. It is important to fertilize when your soil is at the right temperature to avoid damaging your lawn. Applying fertilizer in high temperatures can make your lawn more susceptible to burning. You can use a soil thermometer to determine if your soil is at the right temperature for feeding your lawn, which can be found at your local hardware store or garden center.
Watering Your Lawn
While applying fertilizer to your lawn, you should be mindful of your current watering schedule, as some fertilizers require your lawn to be dry before an application. If you're watering your lawn on a consistent basis, you should only adjust your schedule when necessary. For example, fertilizers containing broadleaf weed killer, such as Jonathan Green Veri-Green Weed & Feed must be applied to a damp lawn so that the weed control can adhere to the grass leaves.  
Follow Directions Carefully
Adding fertilizer to your lawn care routine can provide many health benefits to your lawn. It can, however, be damaging to your lawn if you don't carefully follow instructions. Always remember to read and follow all instructions on the back of your fertilizer bag, as no two fertilizers are the same and each requires a different technique for application. 
Make sure you are applying the correct amount of fertilizer to your lawn, as applying too much could lead to lawn problems, such as burning or yellowing of the grass. Over-application of fertilizer can also present environmental concerns, such as runoff into your local water supply. 
A good rule of thumb is that more is not always better. You want just the right amount of fertilizer at the right time of year to ensure your lawn gets the best results. 
As you care for your lawn throughout the year, you may encounter some common lawn issues, such as grubs and lawn fungus. Be mindful of the amount of product you're applying in conjunction with feeding your lawn, as you don't want to apply too many products at once. 
Conclusion
Remember this: For a green lawn, feed your lawn! Fertilization is a key part of any healthy, lawn care routine. Using a proper schedule, technique, and being mindful of any possible problems that may arise will help you successfully feed your lawn and give you a lawn to be proud of.